Last updated on February 8th, 2020 at 05:58 pm
If you work full-time, this one's for you. You're busy and you don't have time to waste, but finding the right wedding venue can be a total time-suck – researching, scheduling site visits, figuring out what questions to ask, etc.
Well, I'm happy to say that it doesn't have to be that way. What if you could find the right venue without driving all over town and without wasting time on venues that don't fit your vision or your budget?
In today's post, I'll show you how to find the right wedding venue the EASY way – I'll show you how to maximize your effort and save time.
By the way, this is just one of the tactics I teach in my program, How to Hire Wedding Vendors – check it out if you're interested in saving even more time.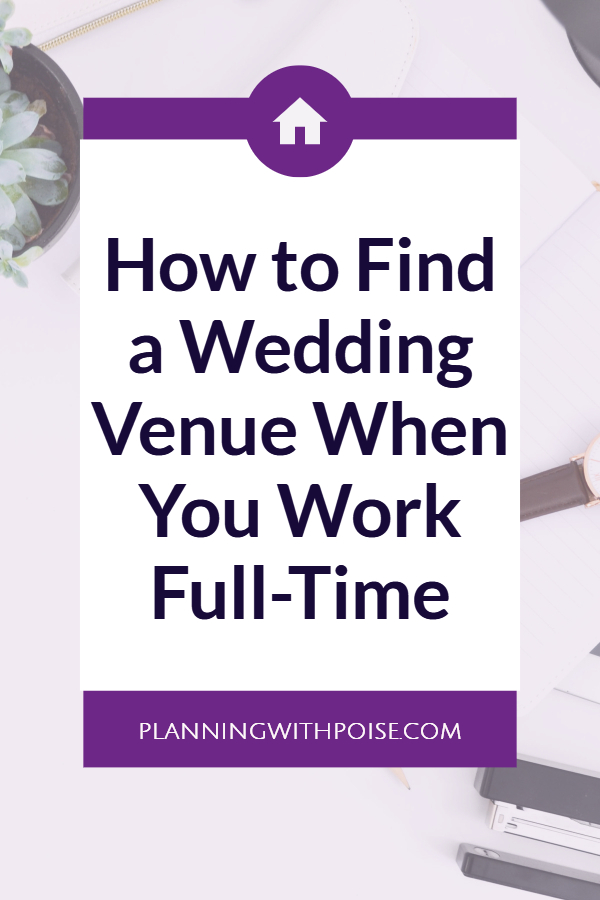 The Strategy
Here's the stupid-simple strategy: get as much relevant information about the venue upfront, i.e. BEFORE you even schedule a site tour.
Most people will find a nice venue, schedule an appointment, and then realize that the venue is not what they expected, or maybe they'll realize that the price is well out of their budget. They've effectively wasted precious time and energy.
You can avoid wasting time by doing research up front. So before you set foot on site, you should get the information you need to see if the venue might be a good fit.
Why it Works
When you use this strategy, you won't waste time visiting venues that are out of your budget or don't meet your needs. Instead, you'll ONLY visit venues that are a good fit.
So by the time you set foot on site, you'll know that the venue has everything you need and (more importantly) you'll know that you can afford it.
During your appointment, you're really only confirming what you already know, getting familiar with the space, and meeting the staff. details of the space, and meet the event staff. It's also your chance to ask any remaining questions, address concerns, and maybe even negotiating price.
3 Ways to Save Time While Searching for the Right Wedding Venue
By now, you're probably on board with saving time by getting relevant info upfront. So here are three tips to help you implement this strategy:
1. Do Your Research
Alright, so step one is to research venues! The easiest and most convenient way to do this is to search online. When you find a venue that you like, you might be tempted to go straight to the "contact us" page and reach out to get the information you need. But before you reach out, review the website very carefully.
When you contact venues to ask questions that can be answered by browsing the website, the venue will likely refer you back to the website. So it pays to spend a little time researching the venue and reaching out with more specific questions that can't be answered online.
When you're browsing the website, take an extra step and write down questions that you're unable to answer by reviewing the website. To save yourself even more time, type your questions into an email, save it as a draft, and send it when you're done reviewing the website.
2. Emailing is Better Than Calling
Use email for everything. This is by far the biggest time-saver. Email makes contacting venues 10x easier, faster, and more convenient than calling each venue individually or scheduling premature meetings that end up being a waste of time.
Plus, most venues have traditional office hours (M-F, 9-5). And if you work during those hours, you might end up spending your lunch hour on the phone with venues – not fun! Email, on the other hand, is more convenient because you can send and receive email whenever you want. (Plus, you won't need to take notes!)
Here's the cool part: I created a free email template that you can use specifically for reaching out to venues. Download the templates to save time, stay organized, and get accurate pricing information.

3. Ask the Right Questions

Getting the information upfront doesn't mean you have to know EVERYTHING about the venue – you just need to get the relevant information.
If there are venue features that you just don't care about – then save your time and don't bother asking about 'em. For example, if you're not planning to serve alcohol, then there's no need to ask about the venue's alcohol policies.
You've probably seen those mile-long lists of questions to ask wedding venues (those lists stress me out!). The good news is that you don't need to ask about everything under the sun, just the stuff that matters.
And by the way, I've put my own spin on the list of questions to ask wedding venues. Check it out here!
Bonus Tip: Schedule Wedding Venue Tours on a Single Day
When you have a nice narrow list of wedding venues that you'd like to see, schedule your venue appointments on a single day! This saves a lot of time – instead of scheduling random appointments all over town, you can be more efficient to save yourself even more time and energy.
Pick a day that works for you and partner, block it off on your calendar, and schedule all your venue appointments on that day. Space your appointment times strategically based on each venue's location (i.e. be sure you can get to each appointment on time). When that day comes, you'll be able to drive from one venue to the next with ease – and you'll be in a better position to compare the venues. Easy, right?
Get Started
Download these email templates to save even more time! Use the templates to reach out the wedding venues the quick n easy way. Enjoy! help you start reaching out to wedding venues – and get the information you need upfront. Save yourself time!
Want More?
If you want to save yourself even MORE time and stress, check out How to Hire Wedding Vendors. I'll show you the step-by-step process for booking the right vendors. Plus, I'll show you how to negotiate prices – even if you've never negotiated. Check it out now!