Last updated on October 16th, 2018 at 03:11 pm
Let me start off by saying this: finding our wedding venue was the worst thing ever.  It took us seven months to find the right place … that's right: seven months of agony.
In today's post, I'll tell you how to avoid the mistake that cost us seven months of searching for a wedding venue – and I'll show you how to find your venue quickly and easily.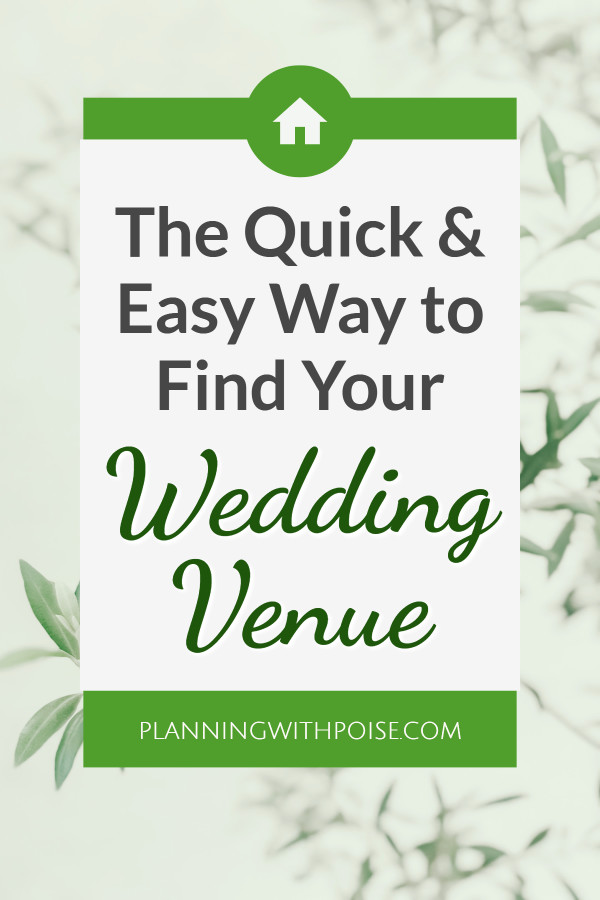 Our Biggest Mistake
When we began looking for a venue – we did just that: we just started searching for venues.  We sifted through tons of random websites looking for the "right" place.  Here's why that was a mistake:
We didn't know what we were looking for in a wedding venue!  
Yeah, I know that sounds pretty lame and super basic.  But we figured we'd just start browsing random venues and assumed that we'd just find a venue eventually.  NOPE.
There's a quote that goes something like this: "If you don't know what you're looking for, you're never going to find it."  I forget where I heard it or who said it, but it sums up a pretty big mistake that can cost you lots of wasted time and effort.  The good news is that you can easily avoid this mistake by using this simple strategy:
Know What You're Looking for in a Venue
It's as simple as that!  Knowing what to look for will help you narrow down your search – which is great for saving time (and your sanity).  So, let me give you just a few things to think about to help you narrow down your options:
1. Location, location, location!
First, think about where in the world you'd like to get married.  Think about the venue's proximity.  Do you prefer a venue that's super close to you?  Or are you ok with having a venue that's a little farther from you – but more convenient for your guests?  Also, if you have any strong preferences for the setting of your venue (like in the city, desert, beach, etc.) make sure to take that into account too.
2. Size Matters
Remember, before you start shopping for a venue, you need to know your headcount.  That way, you'll shop only for size-appropriate venues – and you won't waste time with venues that are too big or too small.  Plus, you won't risk falling in love with a venue that's just not the right size for your wedding.
Besides the general capacity of the venue, you'll also want to ask about capacity limitations when you factor in other stuff that'll take up space in the venue, like space for the dance floor, a DJ booth, a stage for the band, a cake table, gift table, head table, etc.
Size and space also matter if you're planning to have both your ceremony and reception in the same venue.  If you have a strong preference for having the ceremony and reception in a single location – make sure to narrow your search to venues that can accommodate this.
3. The Look and Feel
Another thing way to narrow down your venue search is to go for a certain look and feel of the venue – this is more subjective, it's like the venue's "je ne sais quoi".   For example, do you want to have your wedding indoors or outdoors?  Do you want a venue that's more appropriate for a formal black-tie event or a more laid-back and casual party?  Or you can go for a venue that's more neutral – like a blank slate so that you can go either way.
4. Price
And of course, … a great way to narrow your venue search is to look for venues within your budget 🙂
Before you start seriously shopping for venues, you absolutely must know your total wedding budget – that way you'll have a better idea of what you can afford.  Plus, if you know your wedding budget – ya won't accidentally book a venue that takes up 70% of your total wedding budget!  (Trust me, it happens.)
By the way, since we're talking about budgets and affordability – some venues can save you money!  For example, if you book a venue that's already beautiful as-is – then you might be able to get away with minimal decor, and you'll save money on decorations.
5. All-Inclusive vs. BYO Wedding Venues
And here's a big one: you can narrow down your venue search based on venues that are all-inclusive or bring your own (BYO).  Many "all-inclusive" venues include catering, at a minimum.  In general, there are venues that have in-house catering, other have a very strict list of preferred vendors, and others let you bring any vendor you want.
(I'll go into detail about the pros and cons of all-inclusive and BYO venues in a future post – stay tuned!)
In Summary:
Be sure to narrow down your venue search so that you're not overwhelmed when your browsing wedding venues.  So, to make your search more productive, narrow your options for each of the following factors:
Location
Size
Look and feel
Price
All-inclusive vs. BYO
And remember, before you shop for your venue figure out these items first: budget, headcount, and date.